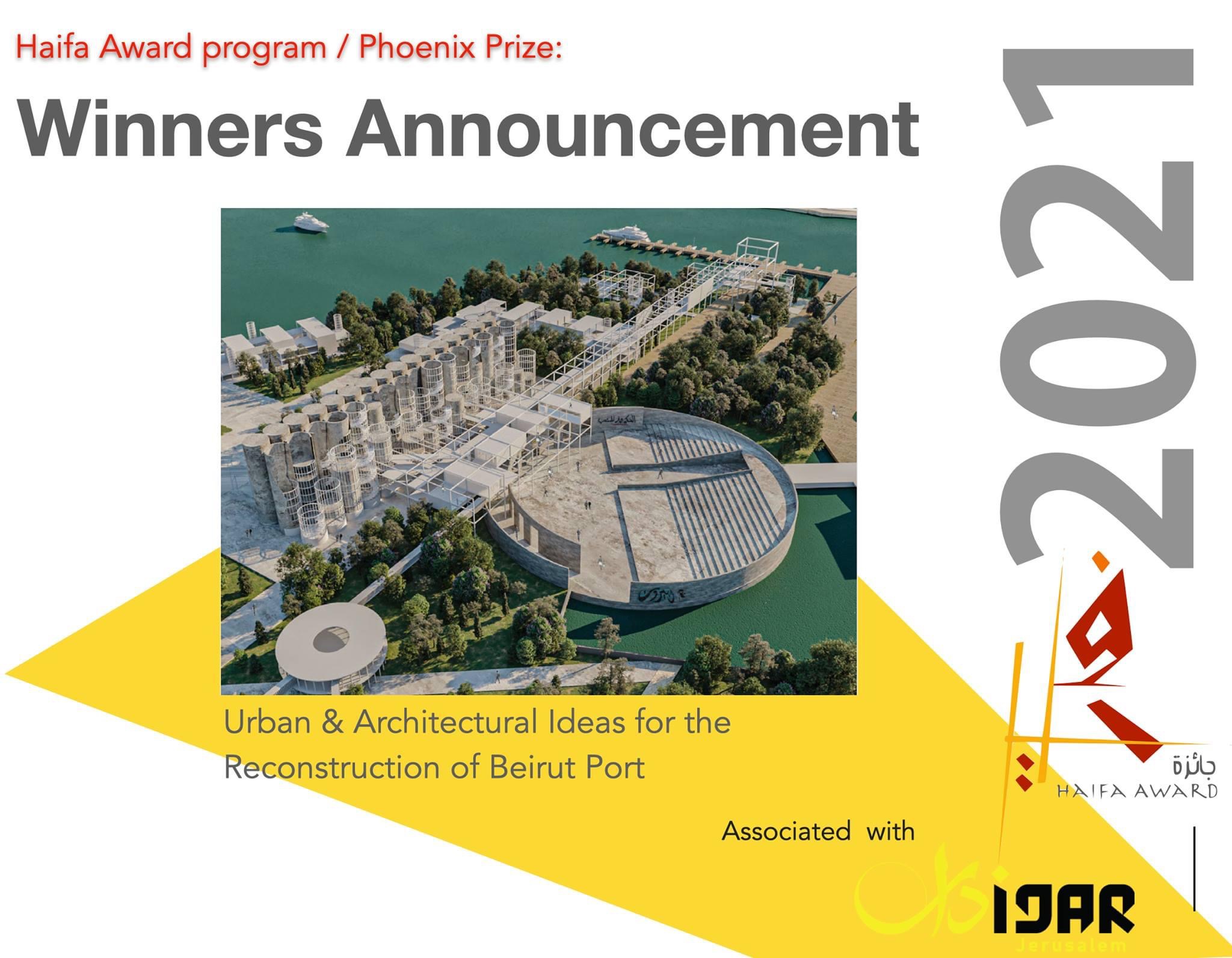 "Haifa Award" international program associated by iDARjerusalem association, endorsed by its partners, and led by an international and renowned jury members has successfully completed on Saturday, May 15th, with the evaluation of the Phoenix entires for 2021.
The "Phoenix" prize
The "Phoenix" prize is the first award established as a part of Haifa Award's international program. The "Phoenix" prize aims to deconstruct tectonics and spaces of "Risk", and turning them into spaces of 'Trust", and to challenge spatial boundaries and the complacency associated with its barriers.
Reconstruction of Beirut port:
On the 4th of August, a tragedy struck Beirut, a horrible blast, reduced the once vibrant seaport to dust and debris, leaving destruction, deceases, injured and effected lives. Back to pre-colonial history, Beirut and Haifa were both open gates between the western and eastern sides of the world. Beirut's influence on Galilee is very tangible. Most of the traditional architecture and urban fabric of Haifa and other main cities in the Galilee, such as ShafaAmr and Nazareth, were built thanks to the wondering Lebanese builders from the north. Following this worldview and the long history that Beirut and Haifa share in common, we at iDAR-Jerusalem, announce a call for the "Phoenix" prize, aiming to highlight innovative design as the ideal intervention for the success of the reconstruction of Beirut port. A legend says that Beirut was rebuilt from the ashes seven times. That is "Phoenix"
Evaluation:
As our first year, the participation of the Phoenix competition exceeded our expectations: 24 registrations leading to 13 submitted proposals. They are from USA, Russia, Poland, Palestine, Israel, Italy, Saudia Arabia, The Netherlands, Bahrain, Portugal, China, and Lebanon.
Following the Jury meetings, on May 7th, and May 15th, and following the final discussion on May the 17th, here are the final results of the evaluation process:
First prize: "The Aftermath- Productive Beirut"
Competitor I.D. : 94c7b3f949
Name of Participant: M.A.D Architects. Team Members: Ala'a Abu Awad, Diala Andonia, Mais Bani Odeh, Majd Malki. Country: Palestine.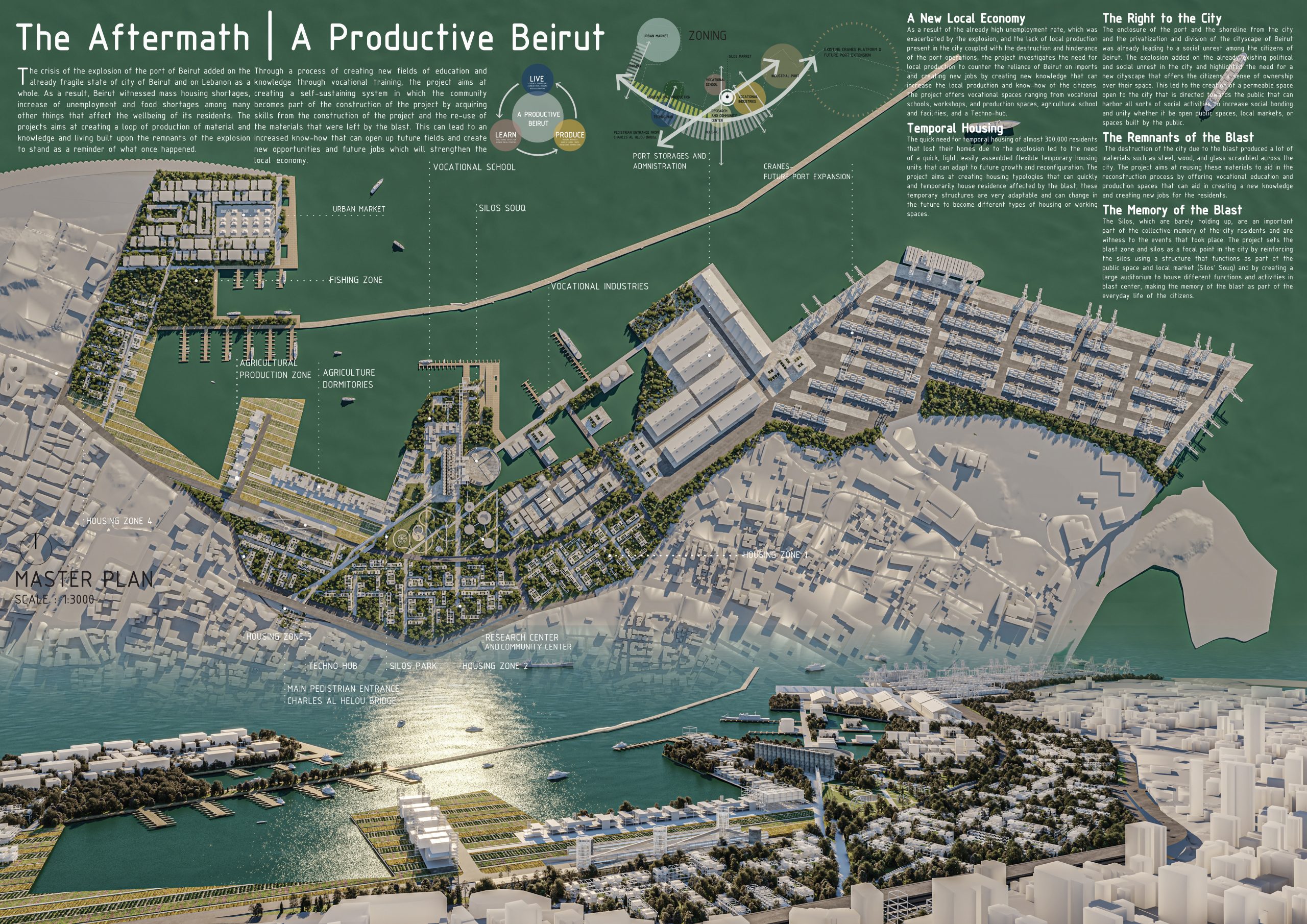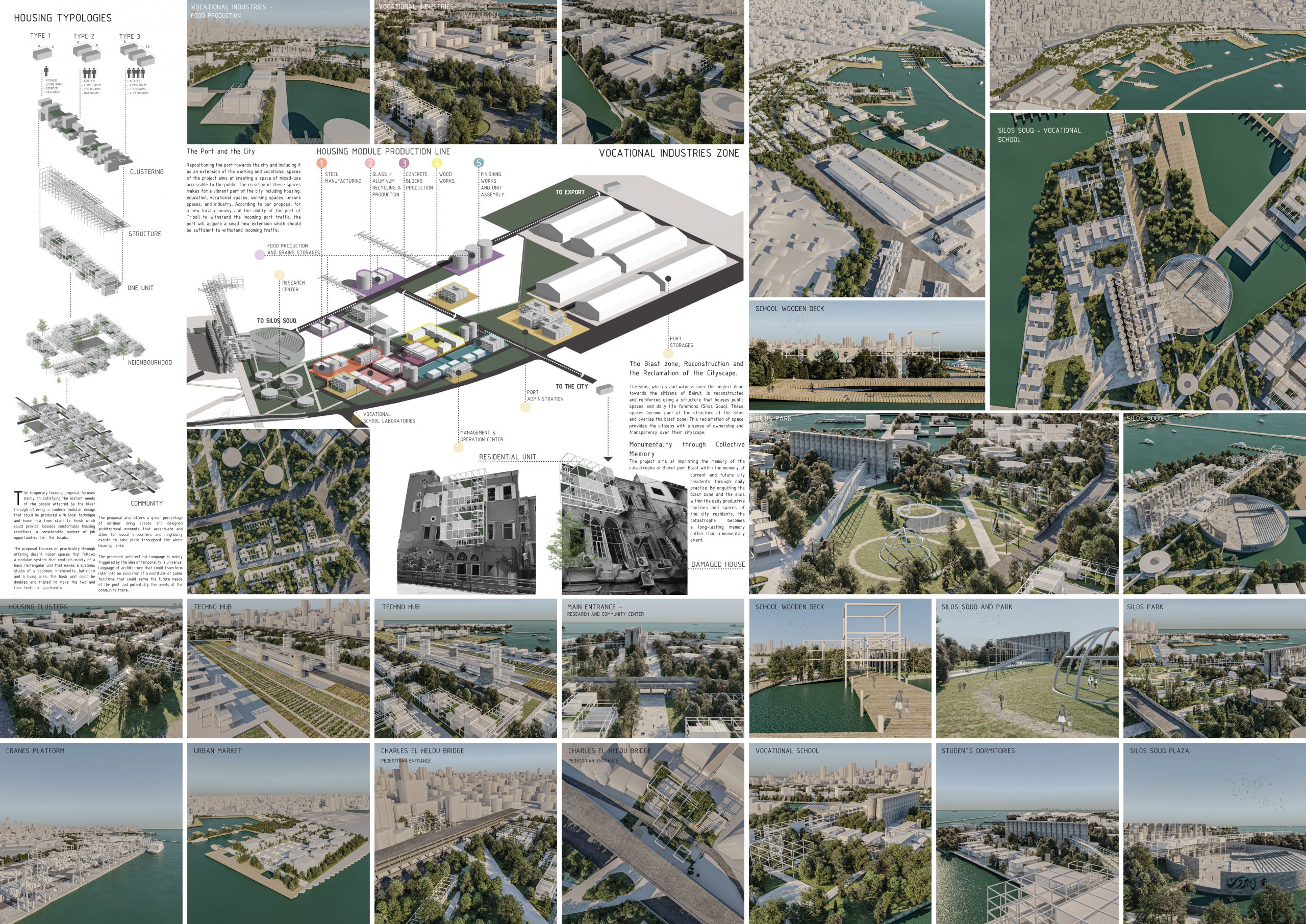 Second prize: "Beirut Living Port"
Competitor I.D. : 50f93a5883
Name of Participant: GradPlan Moscow. Team Members: Sattarova Dina, Mits Galina, Skripkina Elena, Fedorov Alexey, Shchenin Nikita, Lyapin Vyacheslav, Protasova Anastasia, Trufanov Maxim, Kazakova Veronika, Mendelenko Olga, Pudova Elena, Eliseeva Elena, Matyukhin Artem, Valentinova Daria, Levashkevich Mikhail, Dubova Anastasia, Korovina Margarita, Shvyndina Elena. Country: Russia.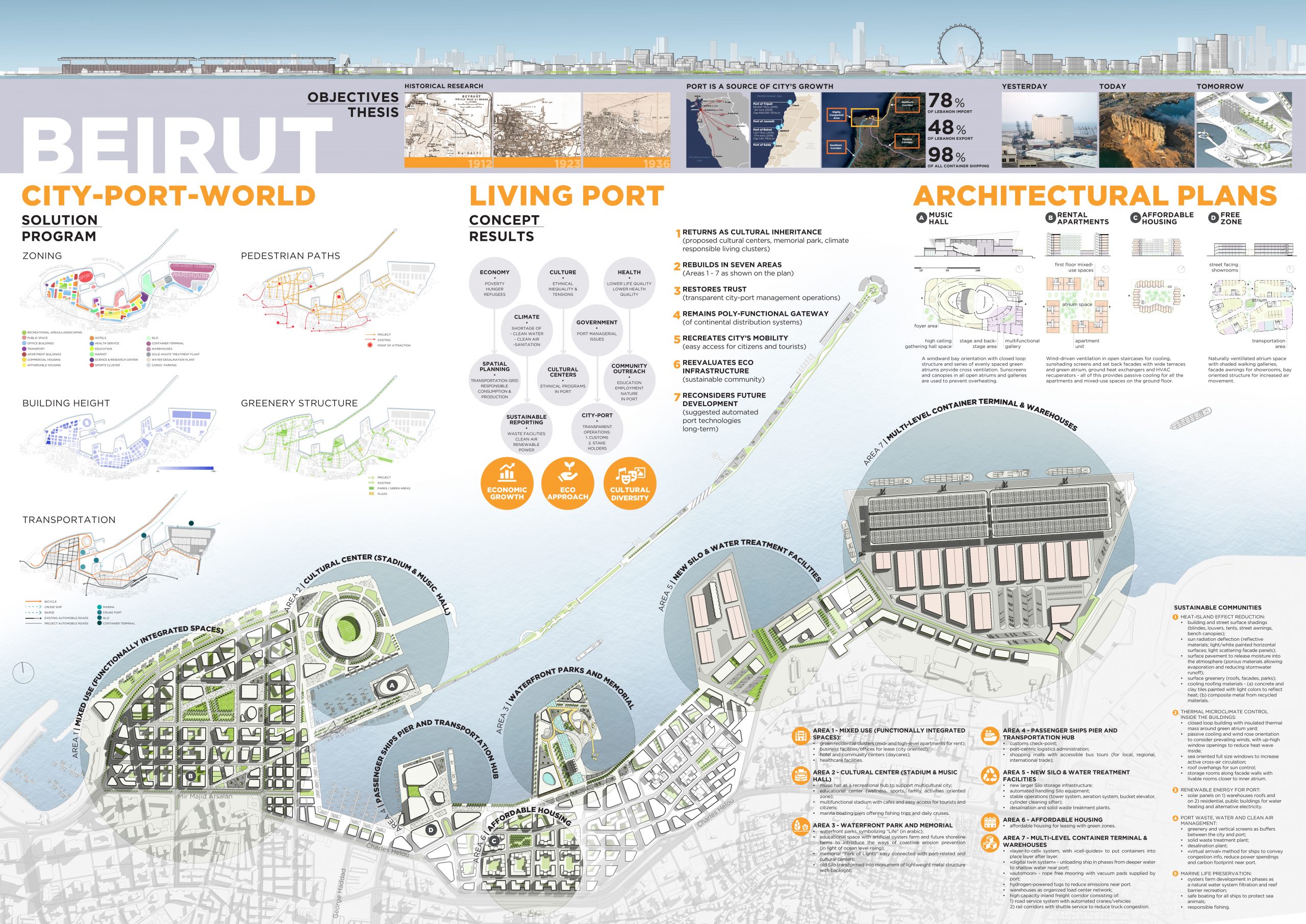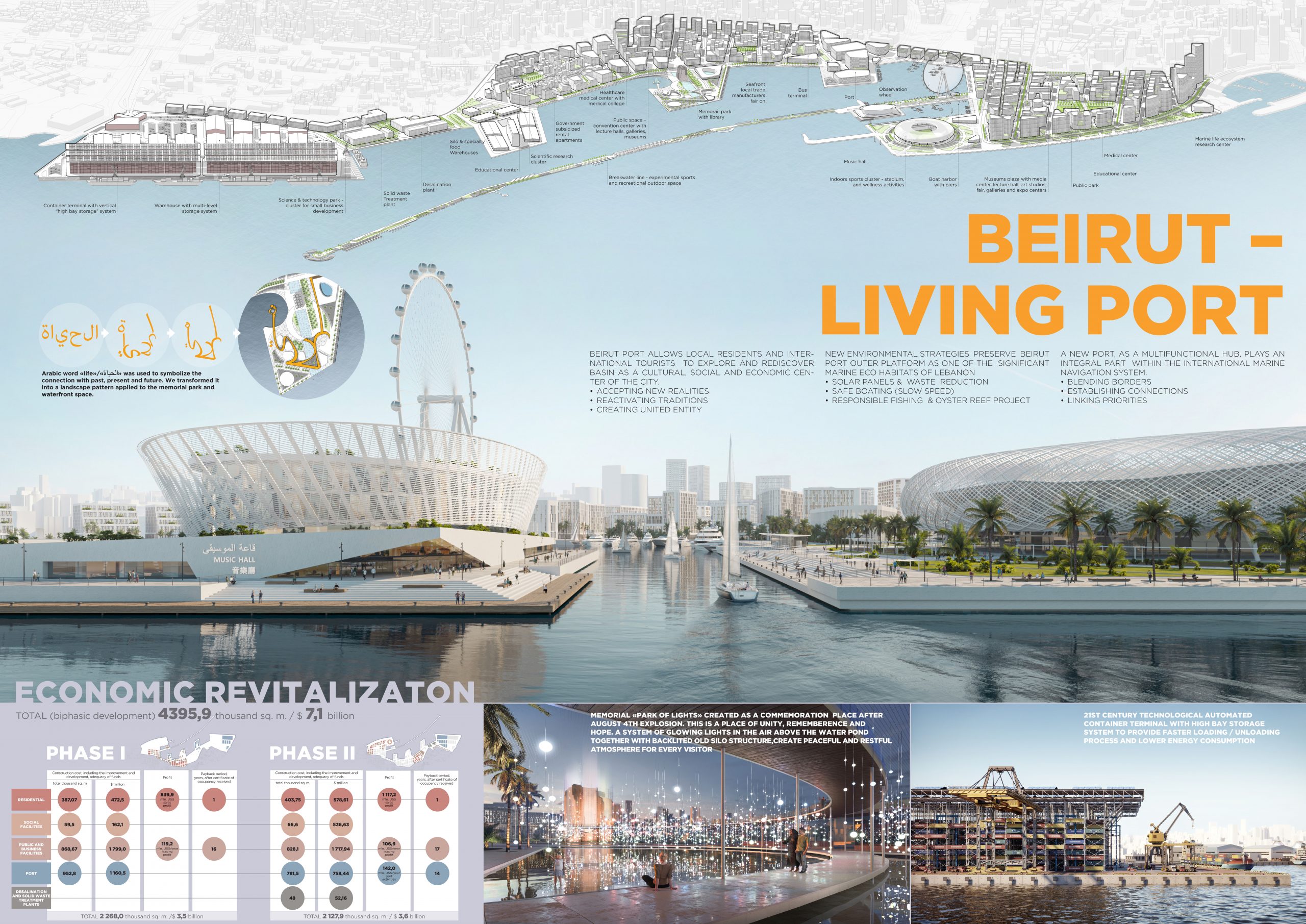 Third prize: "Beirut" Reappropriate Lebanon- The port for everyone"
Competitor I.D. : 63d13c0d12
Name of Participant: FAT Atelier. Team Members: Andrea Toccolini, Michele Fumagalli, Giulia Morei, Yasmine Zahlan, Nadia Abou Rjeily. Country: Italy, Milan, and Lebanon.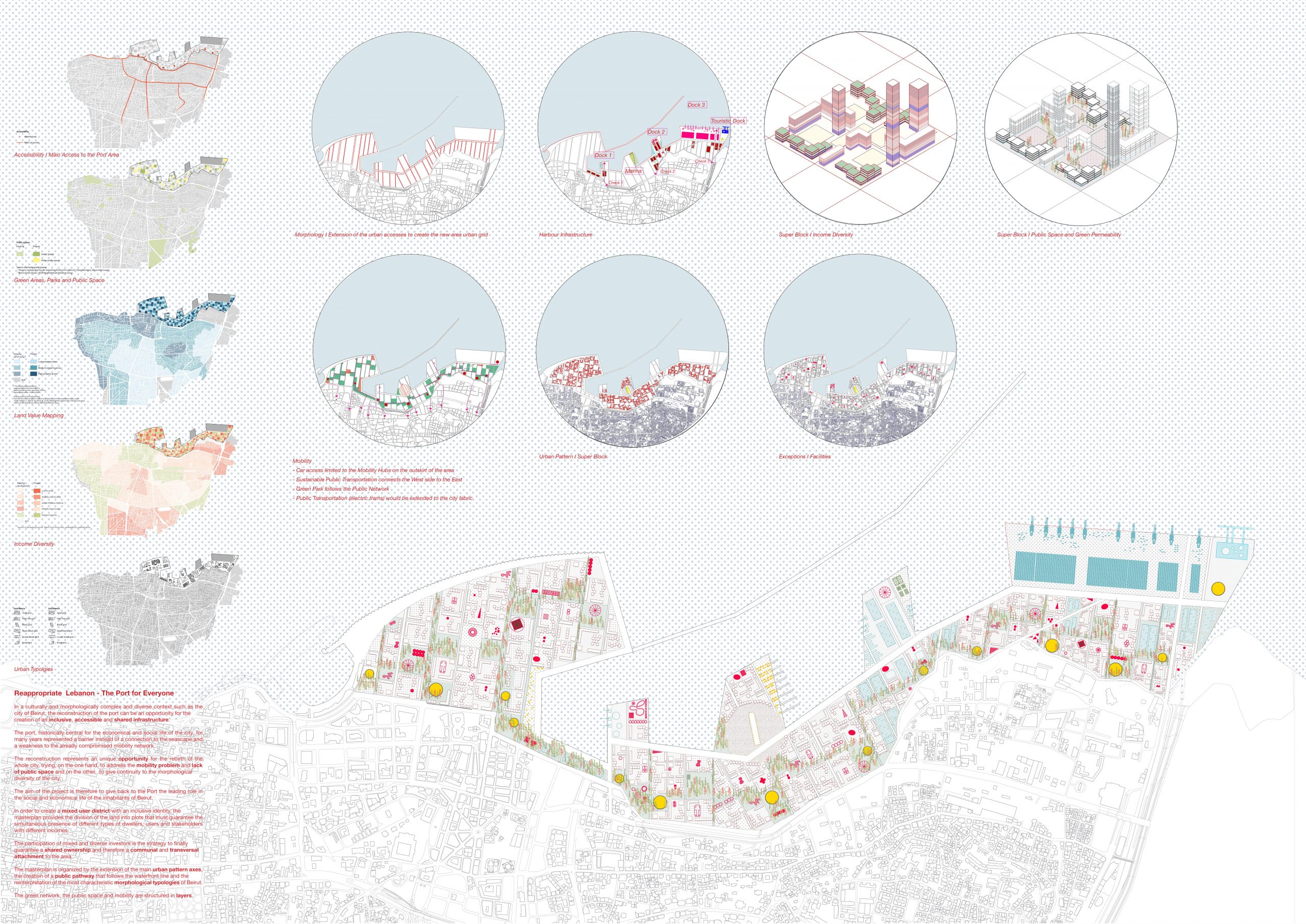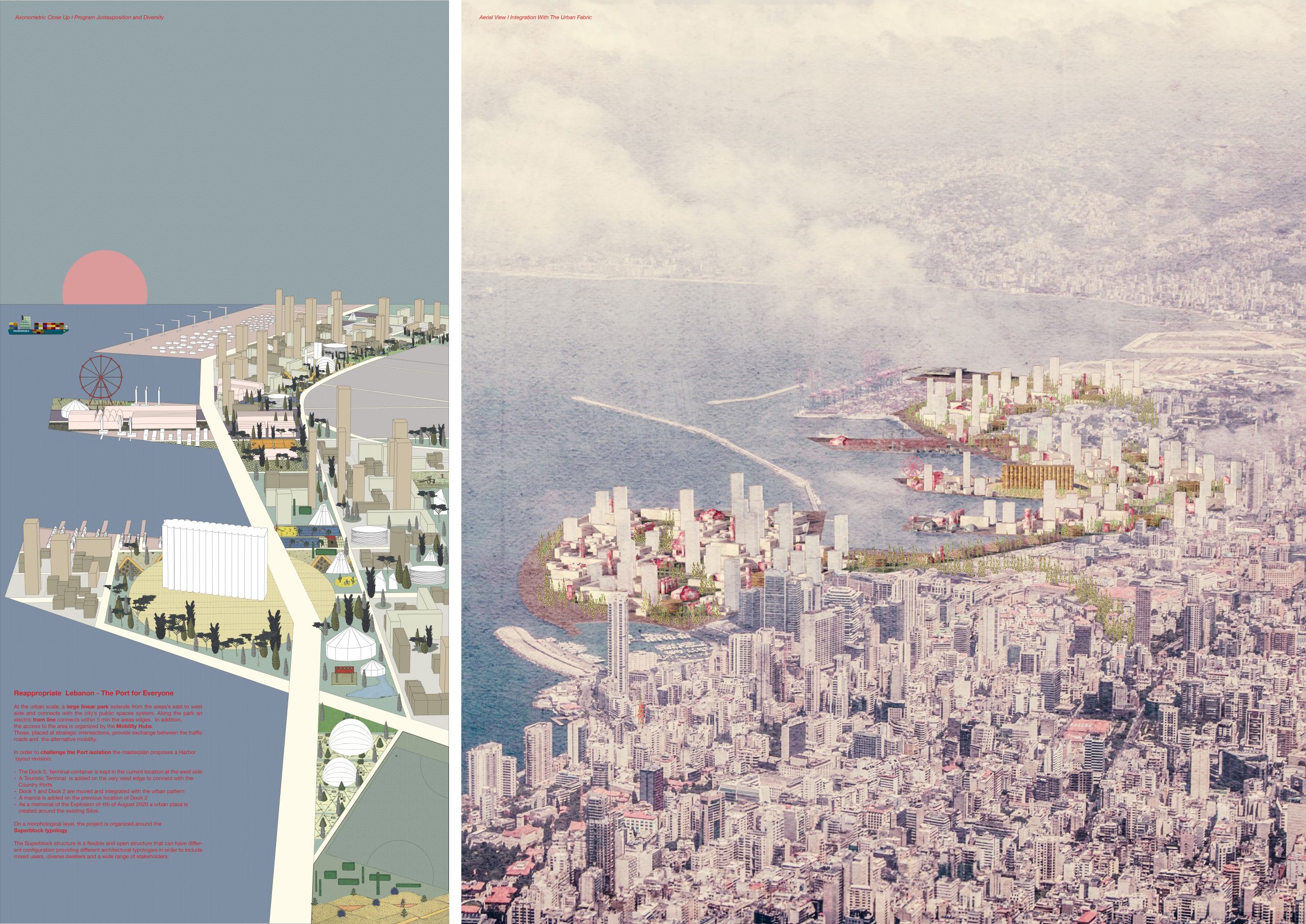 2 Honourably prizes: none
The jury decided not to mention for the honourably prizes, as the rest entries didn't reach the the minimum requirement criteria of 85% grade.
Jury members:
Prof. Wassim Jabi, Arch. Ahmad Seyam, Prof. Winka Dubbeldam, Prof. Najla Allani, Arch. Wael Al-Masri, Dr. Charles Drozynski , Prof. Ali A. Alraouf, Arch. Paolo Belloni Prof. Fani Vavili Tsinika, Prof. Ebtissam Farid, Arch. Christos Pasas. Arch. Driss Kettani, Arch. Martha Tsigkari, Dr. Salem A. Thawaba, Arch. Emre Arolat, And Dr. Abed E. Badran.
Haifa Award Program:
Haifa Award is an international award program established by iDAR-Jerusalem association in 2020. It aims to identify, reward, and celebrate innovative and outstanding design ideas for architecture and urbanism, particularly, concepts or projects that successfully stimulate greater public awareness of the role of architecture in reviving cities.
As a means to enhance the appreciation and promotion of excellence in architecture, the program will provide international recognition and exposure to its winners.